» Sneek Peek: Whitney Eve With Piperlime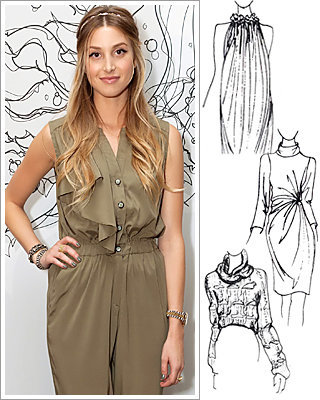 Whitney Port has been busy gal, first debuting her Spring 2011 collection for her clothing line, Whitney Eve, and now a capsule collection for e-retailer, Piperlime.com.
Port will reveal the 14-piece line—which includes dresses, tops, jackets and sweaters—tonight at Piperlime's pop-up store in N.Y.C.'s Soho, but we've got a sneak peek at some of the sketches!
Inspired by a "ballerina-meets-urbanista," the sketches of draped dresses and cozy sweaters (perfect for warming up at the ballet bar) are right on cue. Whitney Eve with Piperlime will be available exclusively online and at the pop-up store starting tomorrow. Whenever there is more news about Whitney Eve with Piperlime, we'll let you know!
»
Posted On September 26, 2010 and Filed Under
Fashion
,
Whitney Eve
With
View Comments